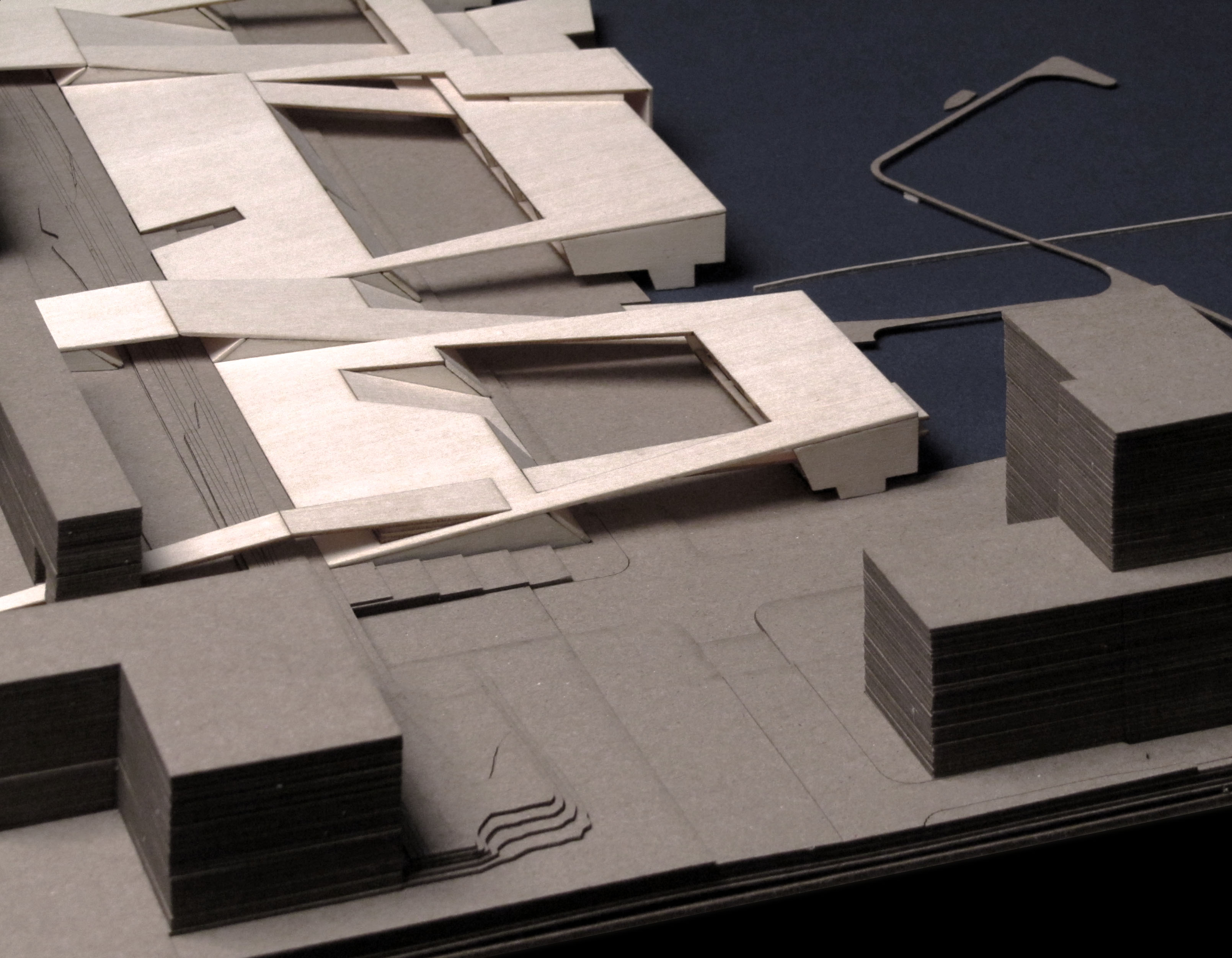 ESCOLA DE TECNOLOGIA DA ÁGUA EM MILWAUKEE
2010, MILWAUKEE - WI, EUA
Projeto Acadêmico
Mestrado em Arquitetura - Harvard University Graduate School of Design

Professores Grace La e James Dallman


THE WATER SQUARE
The Menomonee Valley is facing a challenging process of transformation, as heavy-polluting industries are being substituted by lighter ones or some different kind of program uses like services and tourism.
Milwaukee is well known by its generous water resources.
Consequently, the discipline is proposing to transform the valley through this valuable resource – enhancing the water consciousness.
Then, the main program for the course could not be better: a School of Fresh Water Sciences.
That said, the main goal is to transform the Menomonee Valley into a Water District as a new way of approaching the city – that is from the water.
With this intervention a new centrality for the city: a water square. The goal of the square is to heighten the perception of Milwaukee's water abundance. In addition, this abundant water should serve as the main resource for the School.

As a result of being a new centrality, the square receives all the buildings' main facades instead of their backs.
The programs that constitute the plaza are:
to the south side of the site: the new School of Fresh Water Sciences: the anchoring program;
to the north side: a new hotel envisioning, mainly, entrepreneurs and business people;
to the east: an ice skating rink for the winter that works as a reflecting pool in summer time.

The Building of the SoFWS is composed of the school itself and a dormitory for the students. Besides the entrance gallery and restaurant – that are located in the ground floor - the school is all raised from the land enabling full access to water and easy connection between research boats and the laboratories' spaces.
The school is organized in two levels, being:
• the first – the labs, shops and incubators;
• the second – the classrooms, offices and the conference space.

It is expected that the building be the mediator between water and land, more specifically, between the water square and the existing city to the south.
To achieve this goal, it uses some of the land taken from the site to bridge the railway and, consequently, create a new park facing south. This park makes the connection between the city, the building and the water square with a set of ramps and bridges.
This operation fuses building and landscape into a unity.

With its form, the building can also conduce storm water as it might interest:
• for school research;
• for the building itself;
• just as strategy to return water to the river;
• eventually, the roof could also be used to grow power with solar panels.
The ice skating rink / reflecting pool is served by an underground pavilion.